Everyone on Instagram is given the same platform to work with at the beginning. It is up to you to do the work to make your profile stand out and get the most out of what they offer. Your online presence is the only employee that works 24 hours a day, 7 days a week. So, you want to make sure it looks professional and polished at all times!
Profile Picture: 
This photo should be clear and a good representation of you/your company. It shows up not only on your profile but next to 

all

 your posts & comments too!

 It should stay consistent with your branding as well.
Bio: 
You're going to want to plan this out and choose wisely because you only get room for 150 characters. Are there any important hashtags or other Instagram handles that you want to include? Also, unless you use link tree (or something similar) you can only have one link in your bio! You can update it whenever you want but you still need to choose wisely. For example, we update ours every time we have a new blog post. It is also a good Idea to add emojis to your bio because it is an easy way to add some color!
Feed:
Your feed should have a consistent and aesthetically pleasing theme. We go for light and airy with a mixture of different content on ours!
Stories:
Utilizing stories is a great way to keep your followers updated daily even if you are not posting on Instagram every day. Small office updates, new arrivals, polls & many more things are great to post on stories. It is a way to engage customers as well as create content to later put in your story highlights. 
Story Highlights: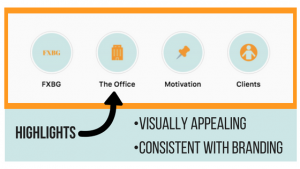 These are relatively new to Instagram! We love how they are a way that you can add a little more personality to your profile. You should stay consistent to your branding here because it is one of the first things people will see when they visit your profile. 
Engagement: 
Don't forget to be engaged with your followers whether it is liking and commenting on their pictures, following them back, or posting engaging and interactive content.
It's never too late to give your Instagram profile a facelift! Take a little time to think about what you just read and then plan out a fresh new look for your profile! The key takeaway from this blog is to stay consistent with your brand and engage with your followers.